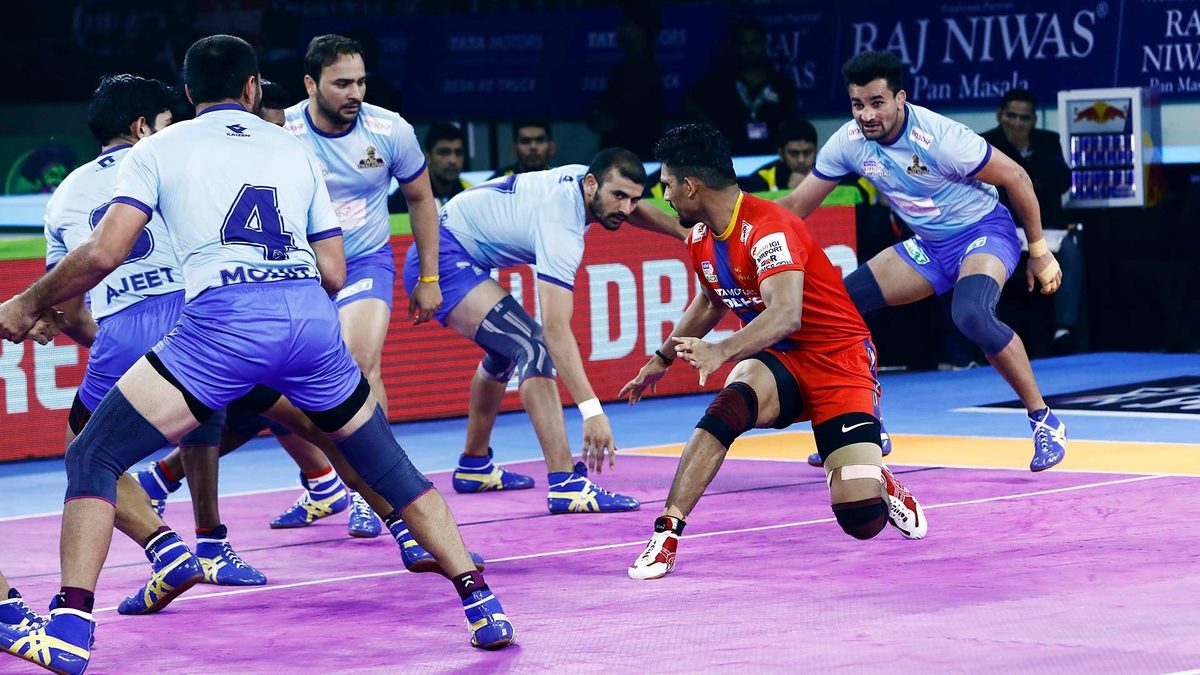 U.P. Yoddha initiated their Patna leg with a tie against the Tamil Thalaivas at the Pataliputra Indoor Stadium on Wednesday. Yoddha led the first half 16-11 but Thalaivas came back strong to level the points and settle for a 28-all tie.
After Monu and Sumit were beaten by Manjeet Chhillar and Rahul Chaudhari respectively, Rishank's raid to get Ajeet out got Yoddha their first points. Ashu Singh tackled the opponent captain Ajay Thakur and Thalaivas went without any leadership. With 11 minutes remaining in the first half, our successful raids and tackles got the Thalaivas reduced to two on the mat.
Though Mohit Chhillar attempted to tackle Shrikant, our raider escaped his grip to get him out. With Sumit tackling Shabeer Bappu through a double-thigh hold, U. P. Yoddha inflicted an all-out over the Thalaivas, at the eleventh minute.
Though Manjeet Chhillar and Rahul Chaudhari kept striking, our defenders once again shone to keep our scoreboard ticking.
Despite being down to four men on the mat with almost a minute left for the first half to end, Sumit's knee hold to get Rahul Chaudhari out revived Rishank. Yoddha headed to the next half with a strong five-point lead as the score read 16-11.
In the first raid of the second half, Ajay Thakur got rid of Nitesh Kumar, which opened up the left corner for Rahul Chaudhari, who had earlier avoided raiding to his left. Eventually, with successful strikes by Chaudhari, we had only three men left on the mat.
Though Thakur struck soon enough, leaving only Amit on the mat, Amit pulled off a game-changing raid, getting out Mohit Chhillar and Shabeer Bappu. Yoddha executed two super-tackles at this point, one by our raider Surender to remove Chaudhari, and the other by Nitesh, with a knee-hold to take Thakur down. Yoddha again went ahead by 23-17.
However, Thalaivas recovered brilliantly in the next four minutes, getting us all-out and levelling the score 23-all.
With a bonus point, Monu created the difference in points yet again, for Yoddha to be motivated. While Rishank got Ajeet out, Shrikant Jadhav held Thakur back with the help of Nitesh to extend the lead. Rishank reached a personal milestone, registering his 600th ProKabaddi point.
However, scores were yet again levelled by Thalaivas, as Rishank went down to Ran Singh and Chaudhari got a running hand-touch on Monu. With four minutes left in the game, the contest became even more intense.
While Manjeet Chhillar earned a point by tackling Shrikant, Sumit held Chaudhari back to balance the points. In the penultimate raid, Rishank got a touch point, getting Shabeer Bappu out. We led by a point before the final raid of the day, but Thakur in his quick final raid got Nitesh out, squaring it off. The match ended in a tie, with 28 points for both the sides.

We play Patna Pirates next on Friday at 8.30 PM IST.