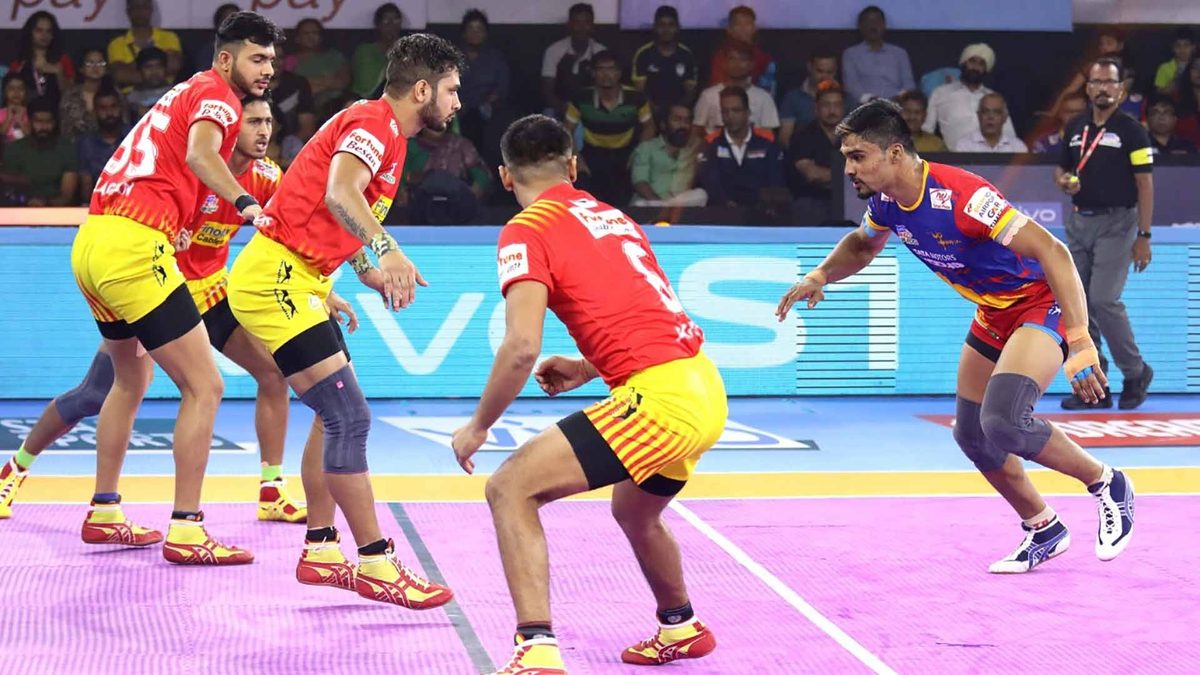 Yoddha continued their scintillating form, bagging yet another victory in ProKabaddi 2019 to climb up to the fifth position in the points table. At the Netaji Indoor Stadium on Monday, Yoddha led the first half by seven points, and after a roller-coaster second half, finished with a 33-26 scoreline to have a fruitful Kolkata leg.
Sachin Tanwar's raid started the proceedings, and the effort was nullified by Sumit's strong ankle-hold. Gujarat quickly got into action, with Sonu getting Ashu out with a hand-touch and their skipper tackling Surender in the following do-or-die raid. Though the Fortunegiants took the lead at this point, Rishank and Sumit levelled the score quickly.
Fortunegiants struck yet again, as Sachin got both Sumit and Rishank out in a raid, which got us very close to being all-out. However, Shrikant Jadhav soon came to the rescue with a 2-pointer, getting their crucial defenders Parvesh Bhainswal and captain Sunil out.
Surender was quintessential in the half, pulling off successful raids one after the other and kept eliminating players and even contributed in the defense. Nitesh was brilliant as usual in the right corner, and with him tackling More, Yoddha inflicted the first all-out. With Rishank earning two touch points in the final minute of the first half, Yoddha accumulated 16 points against Gujarat's 9 points. Rishank also completed 450 raid touch points in his ProKabaddi career.
Yoddha carried the momentum from the first half into the second half; Shrikant and Surender quickly got rid of the remaining Fortunegiants players on the mat to hand them their second all-out. However, Forgtunegiants staged a comeback, with a 4-point super-raid by by Tanwar which got four of our defenders out. Within the next three minutes, we were handed our first all-out.
Although the Fortunegiants were at the cusp of levelling the score, Yoddha remained calm and composed on the mat. Though Tanwar scored a Super-10, the consolidated efforts of the Yoddha clan helped them maintain the lead throughout.
The Yoddha defense was yet again top-notch, and Sumit, with his unmatched performance, registered a High-5 with two minutes remaining in the match. He also completed 50 ProKabaddi points. The combined effort earned us a victory by a margin of seven points.
Sumit received the Perfect Defender of the Match award for his High-5 performance, Rishank bagged the Moment of the Match award while Surender won the Game-changer of the Match award.