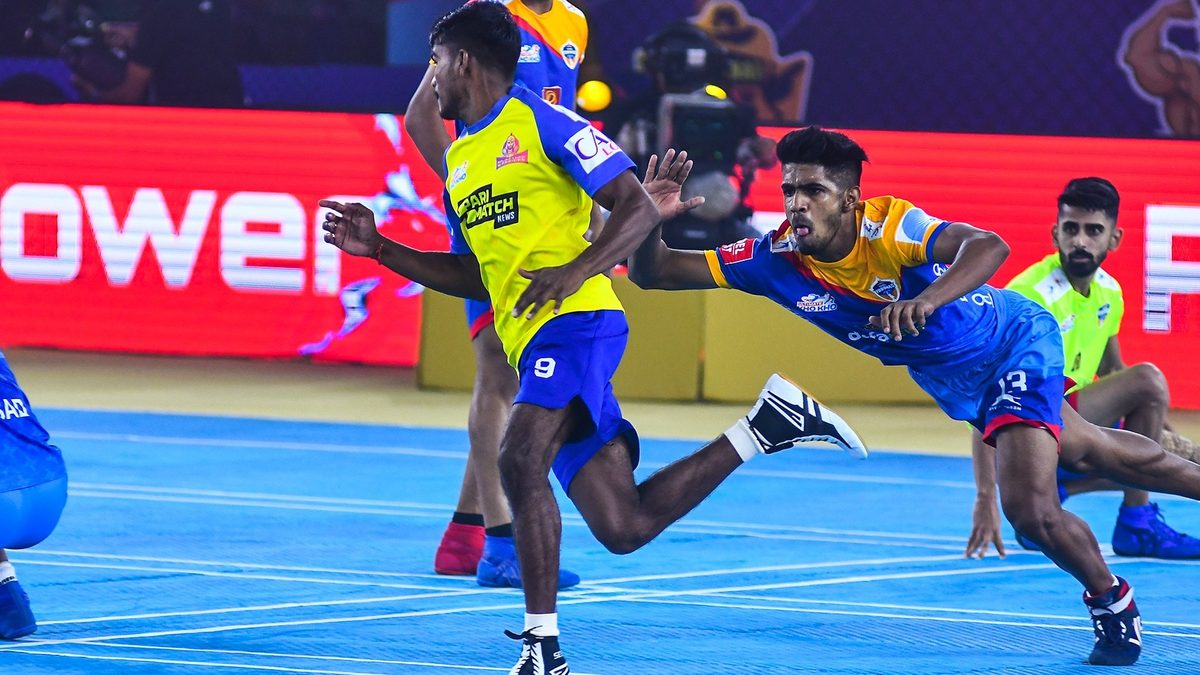 Telugu Yoddhas – the GMR Group-owned franchisee continued their winning streak, with a dominating win over Rajasthan Warriors 68-47, here at Shree Shiv Chhatrapati Sports Complex, Pune in the 5th match of the inaugural season of Ultimate Kho Kho. Riding on the back of their Attackers and Defenders, who once again showcased their ace form, Telugu Yoddhas completely dominated the game from the start till the end leaving Rajasthan Warriors not a single moment to even dream of a comeback. Telugu Yoddhas after this fantastic win now tops the points table with six points to their kitty. Rohan Shingade stole the show for the Telugu Yoddhas earning six points through a single Dream Run, the first – ever in the Ultimate Kho Kho League. Rohan deservingly was awarded Ultimate Kho of the Match and Best Defender award. While Prasad Radye was awarded the Best Attacker award of the match.
Rajasthan Warriors won the toss and opted to defend. Making the most of the attacking start, Telugu Yoddhas got going from the first moment ousting Rajasthan Warriors first batch of Defenders (3) through an exemplary display of acrobatic skills via three Pole Dives. In the first turn of the match, Telugu Yoddhas galloped ahead with multiple 3-pointers through pole dives and Sky Dives to set a formidable score-line that read as 24-2 against Rajasthan Warriors.
With the start of Turn 2, Rajasthan Warriors played a smart game, trying to stage a comeback, however, Telugu Yoddhas were on fire and they turned the game in the final moments of Turn 2 through defender Rohan Shingade who earned 3 Dream Run points in a single run and gifted his side 6 crucial points. With these 6 valuable points, Telugu Yoddhas restored their comfortable lead over Rajasthan Warriors with the scoreboard reading 30-20 to the Yoddhas' favour, at the end of Turn 2 & the first innings.
Turn 3 saw Telugu Yoddhas routing Rajasthan Warriors earning a whopping 36 points from one single turn. Telugu Yoddhas not only inflicted an 'All-Out' over all the 4 Batches (12 Defenders) earning 33 points but also earned an extra bonus of 3 points for the 'All-Out'. Telugu Yoddhas with the help of 4 Sky Dives and 3 Pole Dives dominated Turn 3 of the game. At the end of Turn 3, Telugu Yoddhas were sitting in a very comfortable space with the scoreboard reading 66-20 in their favour. The Final turn of the game saw Rajasthan Warriors trying to make a comeback but were unable to cover the heavy difference in points. However, Telugu Yoddhas did not let their opportunity to earn points slide away and earned 2 final points through Arun Gunki's Dream Run. The match finally came to an end with Telugu Yoddhas registering a 68-47 win over Rajasthan Warriors.
"Our plan was to win and we stuck to our strategy. We practiced on fitness and planning in the last 15 days and we have some excellent senior players who give us good advice, and that's why we have been able to put our plans to reality", said Rohan Shingade post winning Ultimate Kho of the Match & Best Defender of the match award.
Telugu Yoddhas will now face Chennai Quick Guns on 17th August 2022. The match will broadcast LIVE & Exclusive on Sony Sports Network and live streamed on SonyLIV platform from 8:45 PM onwards.