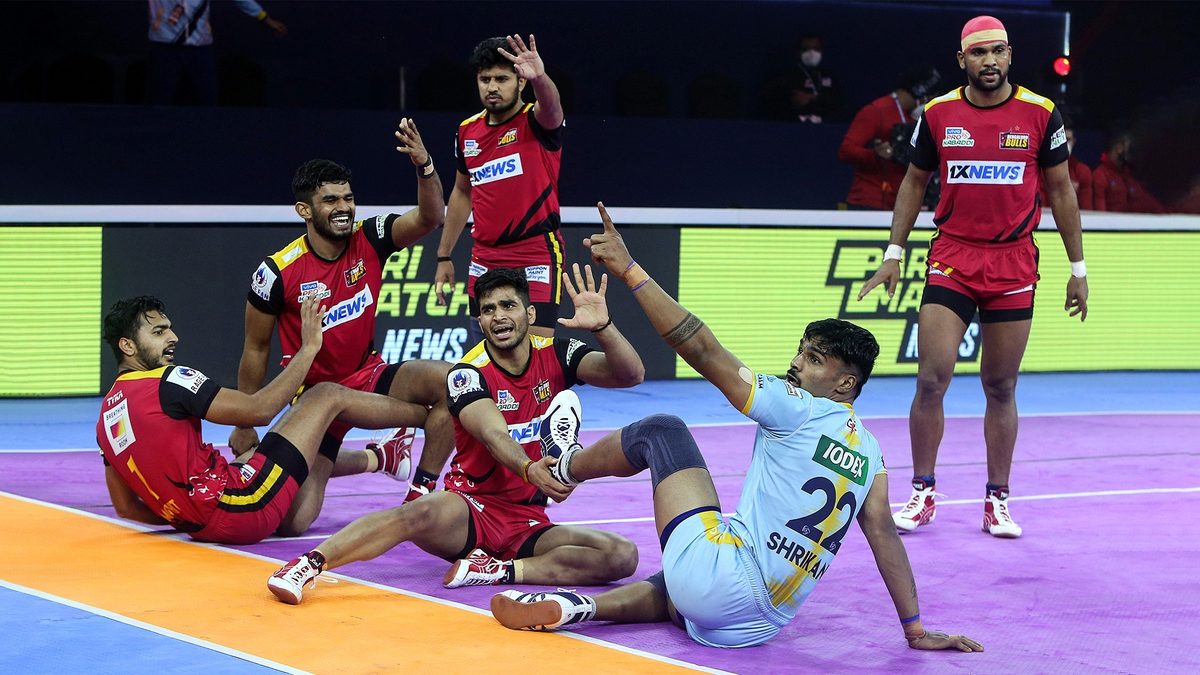 Bengaluru Bulls' all-round efforts outshone a Nitesh Kumar High 5 as UP Yoddha lost 31-26 at the Sheraton Grand, Whitefield in their second Pro Kabaddi Season 8 match.
UP Yoddha's top scorers were Nitesh Kumar with six tackle points and Shrikant Jadhav with the same number of raid points. Sumit bagged four tackle points, while Ashu took three.
Bengaluru Bulls were led by Pawan Sehrawat's nine raid points and Bharat's six. Youngster Aman took seven tackle points to steer a solid Bulls' defence in the right direction.
Nitesh Kumar got the first point of the match, sending back Pawan Sehrawat. However, the Bulls raced to 4-2, pushing UP Yoddha to just three men in the first three minutes of the match.
However, a raid from Shrikant Jadhav, who substituted Mohammad Taghi in the starting seven, brought the team back to five-all. The Bulls took the upper hand soon after, reducing UP Yoddha to just Ashu and Nitesh, with the latter trailing 7-10.
A Pawan Sehrawat raid handed UP Yoddha an all-out with the Bulls taking a 15-9 lead. They maintained the lead at 19-13 at half-time despite Nitesh pocketing four tackle points and accounting for Pawan thrice.
Shrikant started the second half with a two-point raid but the Bulls did well to extend the lead at 23-15.
Surender Gill almost pulled off a massive seven-point raid, taking all five men to the white line, but missing the UP Yoddha's side of the mat by barely an inch. Despite UP Yoddha reviewing, there was no conclusive evidence for the TV umpire to overturn the decision by the on-ground referee.
Nitesh brought up his second High 5 of PKL 8 while taking out Pawan Sehrawat for the fourth time in the game. Despite that, the Bulls took a 27-19 lead with less than 10 minutes in the game and extended it to 29-20 with under five minutes left.
A Sumit super tackle, a raid from substitute Sahil, and Surender Gill brought down the deficit to five points at 31-26.
An empty raid from Shrikant Jadhav to kill the clock meant that the team would pocket the all-important one point than risk losing it at such a crucial juncture in the tournament.
This match leaves UP Yoddha with 41 points and their third consecutive loss now, while Bengaluru Bulls strengthen their position at the top of the table with 51 points.
UP Yoddha will play Patna Pirates next on Wednesday.