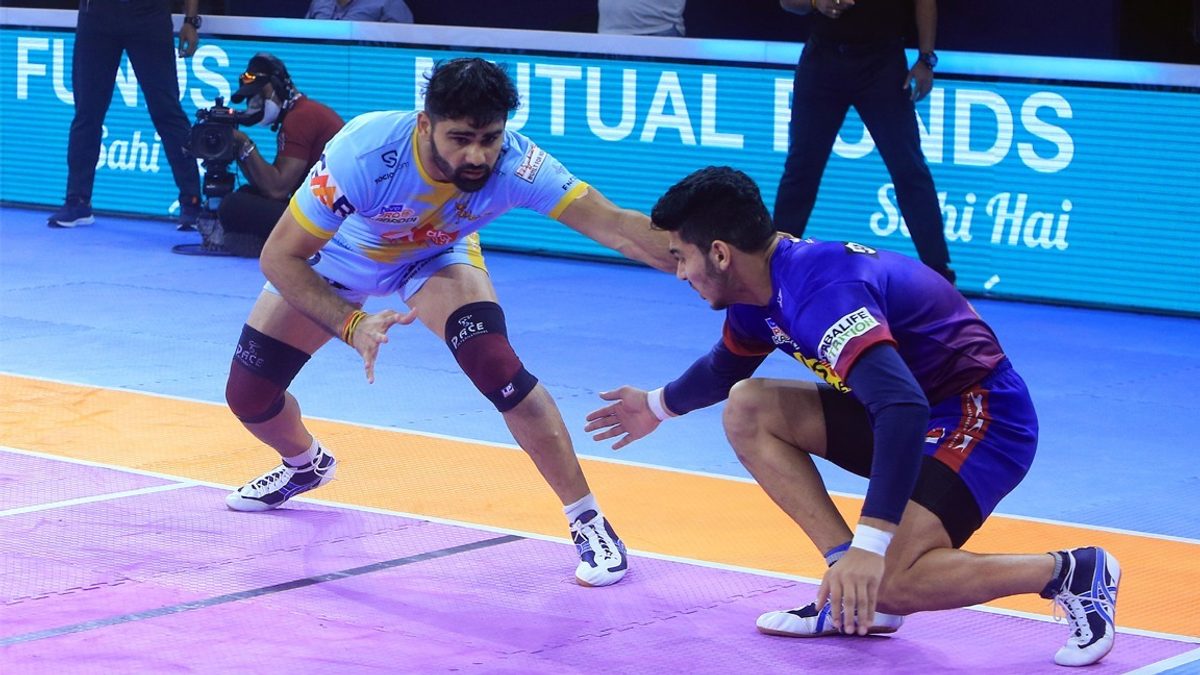 Pardeep Narwal's 14-point super 10 and a sturdy defence earned UP Yoddha a massive 44-28 win against Dabang Delhi KC in Pro Kabaddi Season 8 at the Sheraton Grand, Whitefield on Monday.
Pardeep Narwal brought up his fourth consecutive super 10 and his eighth this season. He also touched the 150 raid points mark in PKL 8.
As for the defence, Shubham shone with four points and Nitesh Kumar put in some great thigh holds, grabbing three points and bringing up his 50th tackle point of PKL 8. UP Yoddha scored 12 tackle points in the match.
Naveen Kumar could only earn one point before sitting out and Vijay Malik brought in eight raid points for Dabang Delhi KC. Substitute Manjeet got five raid points and two tackle points.
Throughout the night, Pardeep Narwal got the better of his old rival Manjeet Chillar.
Initially, the teams moved slowly, sitting at 3-all in the first five minutes. Albeit a two-point raid from Pardeep Narwal, there were no big moments in the next 10 minutes, as the teams levelled at 9-all.
However, another Pardeep Narwal raid changed the momentum of the game.
In an attempt to raid, Pardeep went out of bounds and into the lobby. But in doing so, he towed along two Delhi players -- later turned to three after an unsuccessful review from Dabang Delhi.
This awarded three points to UP Yoddha and one for Delhi, who were now down to just two men. UP Yoddha led 13-11 with three minutes to half-time.
UP Yoddha soon affected an all-out at the halfway mark and went into the break with a six-point lead at 18-12.
Five minutes through the second half, UP Yoddha stretched the lead at 25-16, aided by raid points from Pardeep Narwal and Surender Gill, and some good tackles from Sumit and Shubham. Once more, Dabang Delhi KC were down to three men.
For the next five minutes, UP Yoddha held the lead, despite substitute raider Manjeet helping Dabang Delhi KC keep up the number of men on their side of the mat. However, a two-point raid from Pardeep reduced Delhi to two men as UP Yoddha went up 29-21.
Soon, the Yoddha inflicted another all-out and raced to a 33-23 lead. With five minutes left in the game, UP Yoddha extended that lead by five more points, aided by a couple of tackles from Nitesh and Shubham.
With under two minutes to go, Nitesh Kumar's team handed Dabang Delhi KC their third all-out of the match, stretching the lead to 43-26. Here on, it was a cakewalk for UP Yoddha, sealing the game 44-28.
UP Yoddha now have 63 points and have climbed to the third position on the Pro Kabaddi League points table.
They have one more game left in the Pro Kabaddi Season 8 group stage, against U Mumba, on Thursday.
The top six teams after the group stages will head to the PKL playoffs.