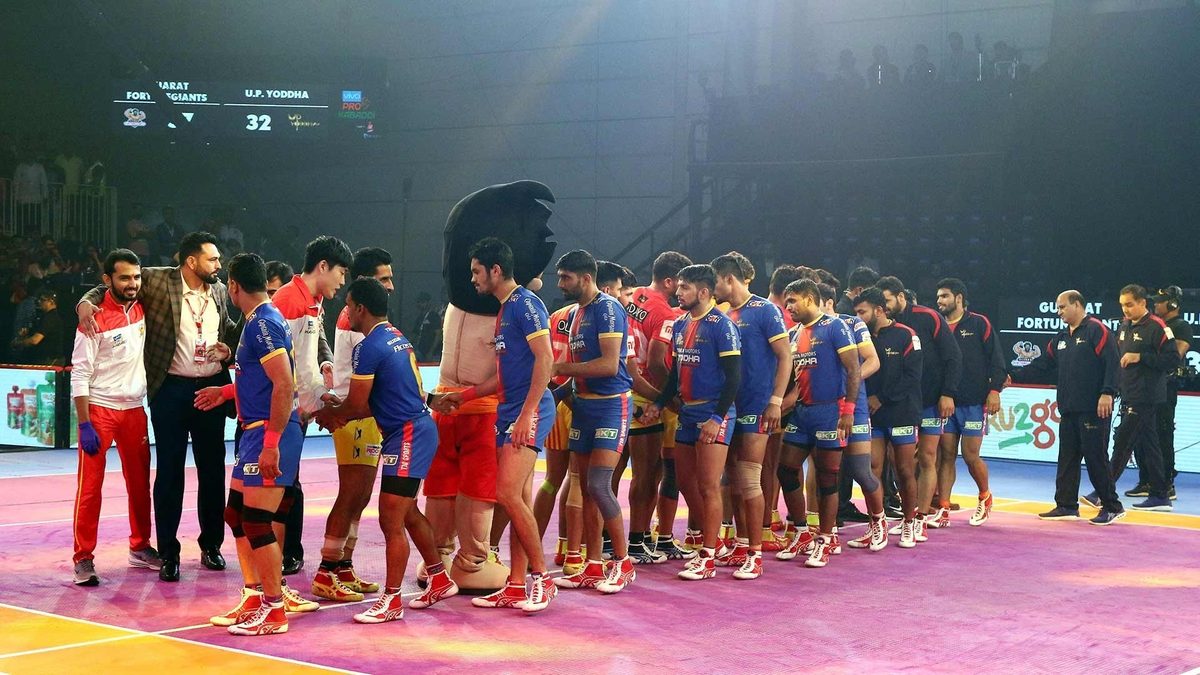 It was a nail-biter, but the Gujarat Fortune Giants had the last laugh as they bettered UP Yoddha's performance on Sunday at the Arena by Transstadia, Ahmedabad. Facing us for the first time in ProKabaddi 2018, a strong Fortune Giants side received tough competition from our Yoddha. The final scoreline read 37-32 in favour of the hosts.
With a running-hand-touch by Rishank earning us our first point, we levelled scores with the Giants and were off the mark. Our defenders were soon into the action, tackling Prapanjan. However, the Giants' defense outwitted our raiders, and we were soon All-Out. Earning points against the Giants seemed difficult. Our captain Rishank went off the mat, suffering a bad injury during one of his raids and Vishav Choudhary took his place. Our defenders kept on delivering, and Nitesh completed 50 tackle points in this season, with a tackle that got out Shubham Palkar.
We started off our second half with a 2-pointer from Shrikant. Eventually, with successful raids from Shrikant and Azad alternatively, we kept on reducing the Fortune Giants' lead. The turning point was Shrikant's 5-point-raid, in which he intelligently invaded the three defenders of the opponents on the mat and got them All-Out. We briefly led the Fortune Giants by one point, but they soon took over.
Shrikant looked back in rhythm, getting his Super 10. Apart from that, we displayed good use of the review system, retaining it 4 times and earning us our points.
With just two players left on the mat, Nitesh and Narender pulled off a much-needed Super-Tackle and Nitesh completed his High 5. However, we were again close to getting All-Out. With Nitesh out and one man standing on the mat, our coach used his trump card – Bhanu Pratap Tomar, who earned two points on his first raid of the day. Thus followed a Super-Tackle, which put us in the lead again.
However, we could not hold on to the lead for longer, as the Giants' raiders got into action and got us All-Out. With Shrikant being tackled twice on the trot, the match went the hosts' way, with a 5-point margin.
Shrikant Jadhav was the most successful raider of the match, with 11 points while Nitesh maintained his form being our best defender with a High 5. Shrikant received the VIVO Y Series Perfect Raider of the Match.
Though victory remained distantfor us, our performance was one that we can be proud of. The good news is, Shrikant is back in his form. However, clouds of uncertainty loom over Prashanth and Rishank's availability for the matches to follow considering the injuries. Nonetheless, the Yoddha commit to put their heart and soul in every match they will play in the league from here on.