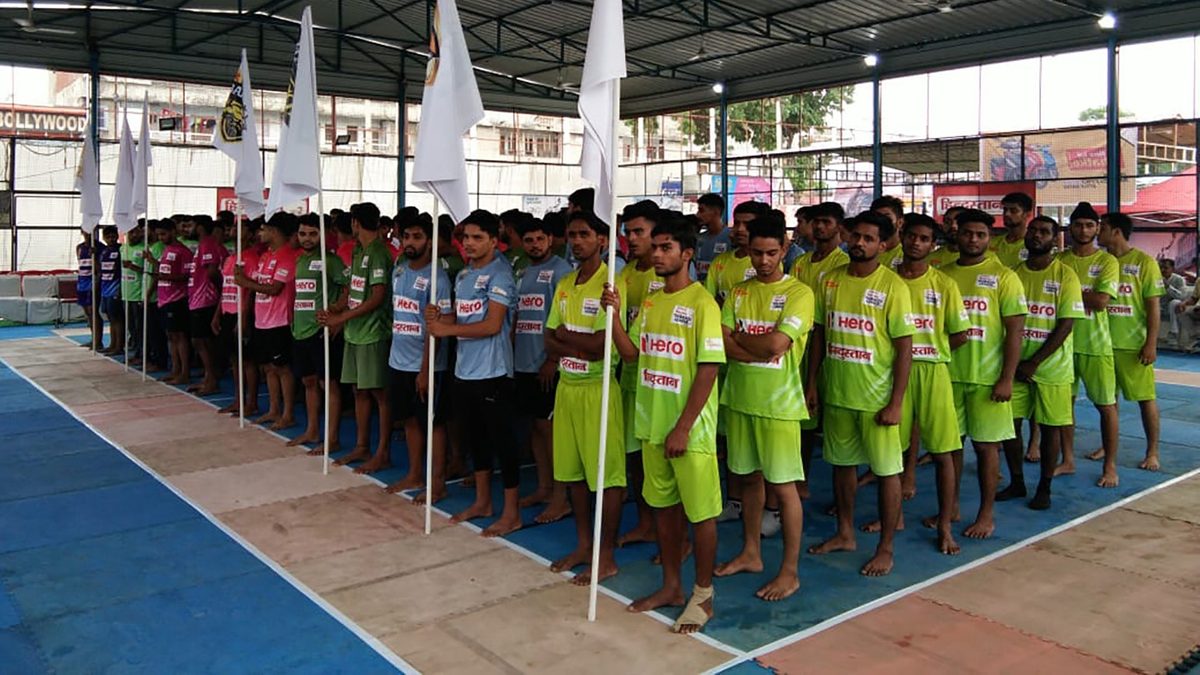 In its endeavour to promote a multi-sporting culture in the country, Hindustan and U.P. Yoddha has organised an inter zonal - Hindustan Kabaddi League -2019 (Uttar Pradesh).The tournament returns for the 2nd season with double the enthusiasm, It's organised with support of the U.P. Yoddha franchisee of PKL to encourage sporting talent and stimulate the indigenous game of kabaddi amongst young sports enthusiast.
This association for the Inter Zonal Kabaddi Tournament is another step towards involving grassroots and getting as many people to play the action-packed game of kabaddi. For the first time, a full body contact sport like kabaddi was watched by an urban audience and was studded with glitz.
In its effort to ensure that Kabaddi is sampled across various levels, Hindustan has extended their support to the Inter-Zonal Kabaddi Tournament to be hosted in Uttar Pradesh. The spruced-up set up with kabaddi mats etc with assistance from U.P. Yoddha is expected to inspire young athletes in schools/colleges to take up kabaddi professionally.
A big step towards boosting interest and participation for kabaddi, Hindustan Kabaddi League inter zonal state level tournament will witness participation from more than 500 players from 34 teams across 4 zones in Uttar Pradesh.
The initiative aims at creating more windows of opportunities for budding players in kabaddi and is a step towards building a strong foundation of the ecosystem around the game. In its effort to ensure that kabaddi is played across various ages and levels of skill
Hindustan & U.P. Yoddha had a vision to galvanise a traditional Indian sport and transform it into an aspirational game for players and fans. The details for the Hindustan Kabaddi League are:
Schedule of zonal matches
| | | | | | |
| --- | --- | --- | --- | --- | --- |
| Zone | No. of teams | Dates | Venue | No. of Days | Teams |
| Zone C- Gorakhpur | 9 | 27th to 30th Aug | Gorakhpur | 4 days | Gorakhpur, Maharajganj, Deoria, Faizabad, Mau, Lucknow, Azamgarh, Kushinagar, Ballia |
| Zone D- Varanasi | 10 | 31st Aug – 3rd Sep | Varanasi | 4 days | Varanasi, Allahabad, Mirzapur, Pratapgarh, Ghazipur, Badohi, Sonbhadra, Rae Bareilly, Chadauli, Jaunpur |
| Zone A-Agra | 8 | 10th -12th Sep | Agra | 3 days | Agra, Saharapur, Muzaffarnagar, Bijnore, Bareilly, Pilibhit, Mathura, Shamli |
| Zone B- Kanpur | 8 | 13th -15th Sep | Kanpur | 3 days | Kanpur, Baghpat, Ghaziabad, Gautam Budh Nagar, Bulandshahr, Jhansi, Meerut, Hapur |
Schedule of finals (Super league)
Date

Day

Venue

Teams

Women's Teams

10-Oct

Thursday

Lucknow

Top 2 men's teams from each of the 4 zones (i.e. total 8) & 8 women's teams will play the finals

Varanasi, Muzaffarnagar, Baghpat, Shamli, Allahabad, Gorakhpur, Meerut, Kanpur

11-Oct

Friday

12-Oct

Saturday

13-Oct

Sunday