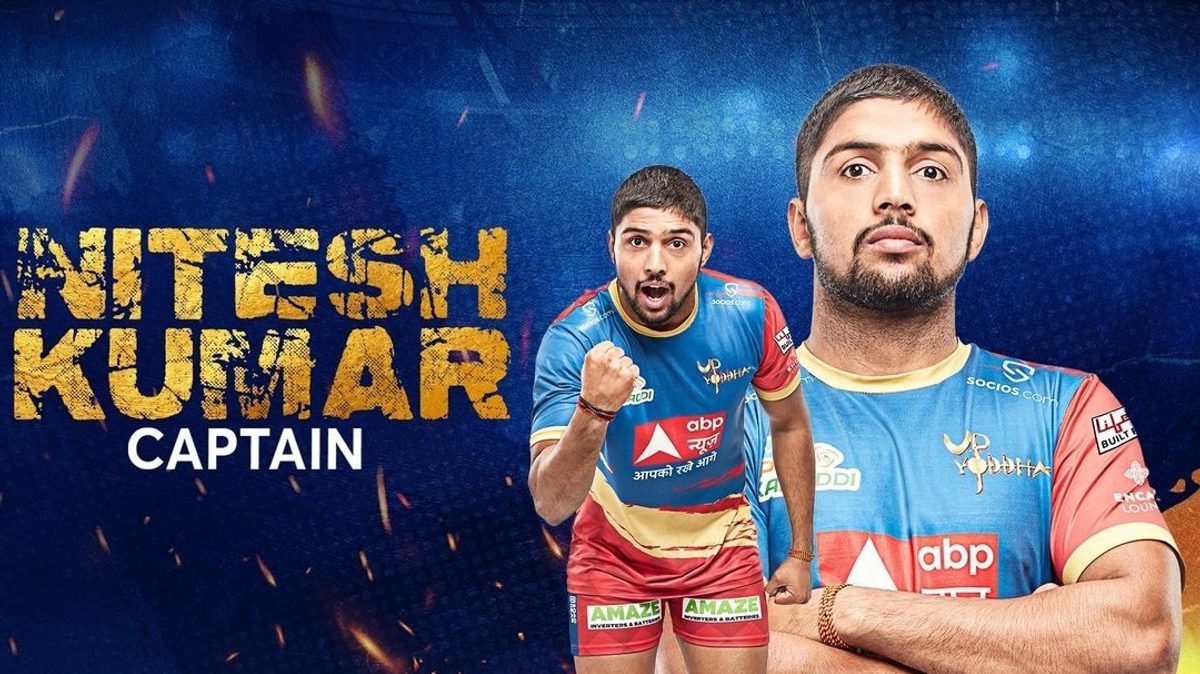 The UP Yoddha team has announced their captain for Pro Kabaddi League (PKL) Season 8, and right corner defender Nitesh Kumar will continue holding the post from the previous season.
Captain Zordaar, Nitesh Kumar 😍

Pesh karte hain humare Kaptaan for #vivoProKabaddi Season 8 💙💛#YoddhaHum #SaansRokSeenaThok #GMR #NiteshKumar pic.twitter.com/lUP2lwgybq

— U.P. YODDHA (@UpYoddha) December 15, 2021
In Season 7, Nitesh had led the team to the third position on the points table with 74 points in their hands. They were only behind Dabang Delhi and Bengal Warriors.
Nitesh looks ready to take on the Season 8 challenge. A recent video shows glimpses of his preparation for the mega event starting on December 22, 2021.
Hum sabka din hota hai kuch khas se shuru aur kuch khas se khatam 😊

Dekhiye humare Yoddha Nitesh ki life ka ek din 🥰#YoddhaHum #SaansRokSeenaThok #GMR #vivoProKabaddiIsBack #vivoProKabaddi pic.twitter.com/zkXohmXZH8

— U.P. YODDHA (@UpYoddha) December 14, 2021
Nitesh Kumar PKL debut and earlier seasons
Nitesh Kumar made his Pro Kabaddi League debut in season five. He was drafted into the New Young Players' pool for the season and was picked by UP Yoddha, a team on their debut campaign.
In Season 5, Nitesh Kumar had played 19 matches and pocketed 47 points. While it may not have been the most compelling case he made for himself, it was enough for the team to gain trust in him, which he repaid soon enough.
It was in Season 6 that the defender displayed his capabilities in full force. In the 25 matches that the team played, Nitesh scored 100 tackle points, becoming the first-ever player to score 100 tackle points in a single season.
In Season 7 of PKL, Nitesh Kumar was handed over the reins of captaincy by Rishank Devadiga. In that season too, he put on an impressive show as a defender while leading the team from the front.
Nitesh scored 75 tackle points and led the team up to Eliminator 1 in the season, before bowing out of contention after a loss to Bengaluru Bulls.
Nitesh Kumar and Co. will begin their PKL 8 campaign against Bengal Warriors at 9.30 PM IST at Bengaluru's Sheraton Grand on December 22.