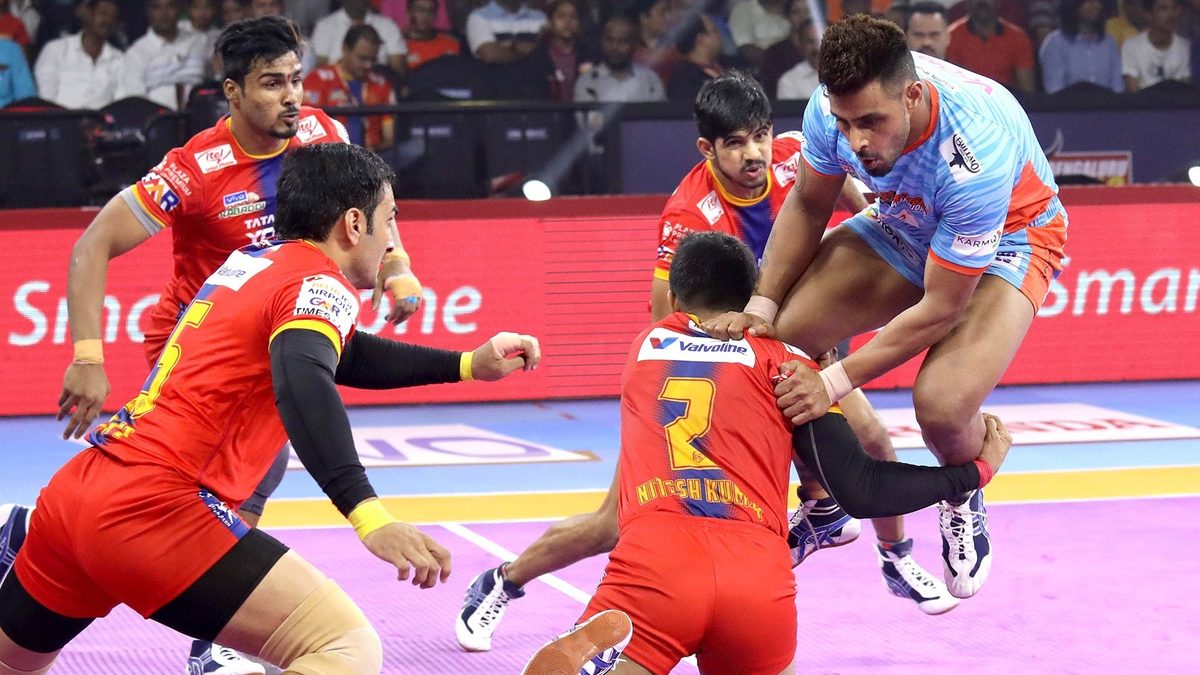 Could revenge be sweeter? Not if after being handed a defeat in the season-opener, the team comes back with a convincing 3-point win. U.P. Yoddha, facing Bengal Warriors for the second time in this season of ProKabaddi. Playing at the Sree Kanteerava Stadium on Sunday, Yoddha picked up pace after powerful performance from captain Nitesh Kumar, who completed his High-5 within the first 12 minutes. With the defence putting forward their A-game and Shrikant Jadhav leading the raiding contingent, Yoddha finished with a 32-29 scoreline to emerge triumphantly.
Against this crucial fixture, Rishank Devadiga came back from his injury and started the raid. Though Maninder's successful raids earned the Warriors an initial raid, our captain Nitesh made sure we stayed in the game, getting Maninder out with a double thigh hold.
The Bengal raiders, led by Maninder, were quick moving around the mat and executing touches, which left us only with Nitesh, Sumit and Surender on the mat. Nitesh yet again came to the rescue, getting rid of Maninder with a powerful ankle hold.
Nitesh pulled off his second super-tackle in the tenth minute, with yet another signature ankle hold to hold Mohammad Nabibaksh back during his do-or-die raid. This not only earned Yoddha two crucial points but also helped to reduce Bengal's lead. He registered his first High-5 of the season.
Nitesh was soon sent out of the mat, and with two Yoddha left on the mat, Ankush entered as a replacement for Amit. Sent for his first raid, Ankush worked as an elixir to the Yoddha, saving them from a probable all-out. He got rid of two Bengal defenders, Jeeva Kumar and Baldev Singh to bring back two of our players on the mat and reduce Bengal's lead to just a solitary point. With Amit tackling K. Prapanjan in Bengal's next raid, Yoddha squared with them with six minutes to go for the half to end.
Both teams depended majorly on their defenders and after close contest, the half ended 13-12 in Bengal's favour.
Coming back in the second half, Ashu's tackle helped us level the scores yet again. Our defenders kept the good work going, while Shrikant, too, found his rhythm. A turning point in the second half was Shrikant's 2-point raid which eliminated a strong Rinku Narwal and K. Prapanjan.
Nitesh clearly won the battle against Maninder, tackling him plenty of times throughout the match. With 16 minutes remaining to full time, Yoddha inflicted an all-out and took the lead. Shrikant also completed a personal milestone, registering his 300th raid point in ProKabaddi.
While Shrikant kept striking with touch points, Maninder, too, kept sneaking points here and there to bring Yoddha's lead down to draw level.
Nitesh Kumar was in scintillating form on the night, with a top-class display of his famed ankle-holds which did not let the Bengal raiders bag any points in our right court.
Yoddha maintained their lead till the 15th minute of the second half; Surender's running hand touch and our covers' tackle to Maninder followed, to increase the lead further. Shrikant remained consistent throughout the second half and helped Yoddha not drop the momentum.
Though the Warriors tried their level best to snatch the lead back, Yoddha led the scoreboard till the final raid of the match. With Shrikant going in for the do-or-die raid, the Warriors still had the chance to pull off a super-tackle to settle for a draw. However, Shrikant kept his calm and did not commit any error, and instead, got Rinku Singh out to take the final score to 32-29.
Shrikant remained the best of the raiders with nine raid points, while Nitesh finished with seven tackle points. Our defense restricted Maninder to only three points and gathered 16 points from the match.

We take on Patna Pirates next at the same venue on September 6.