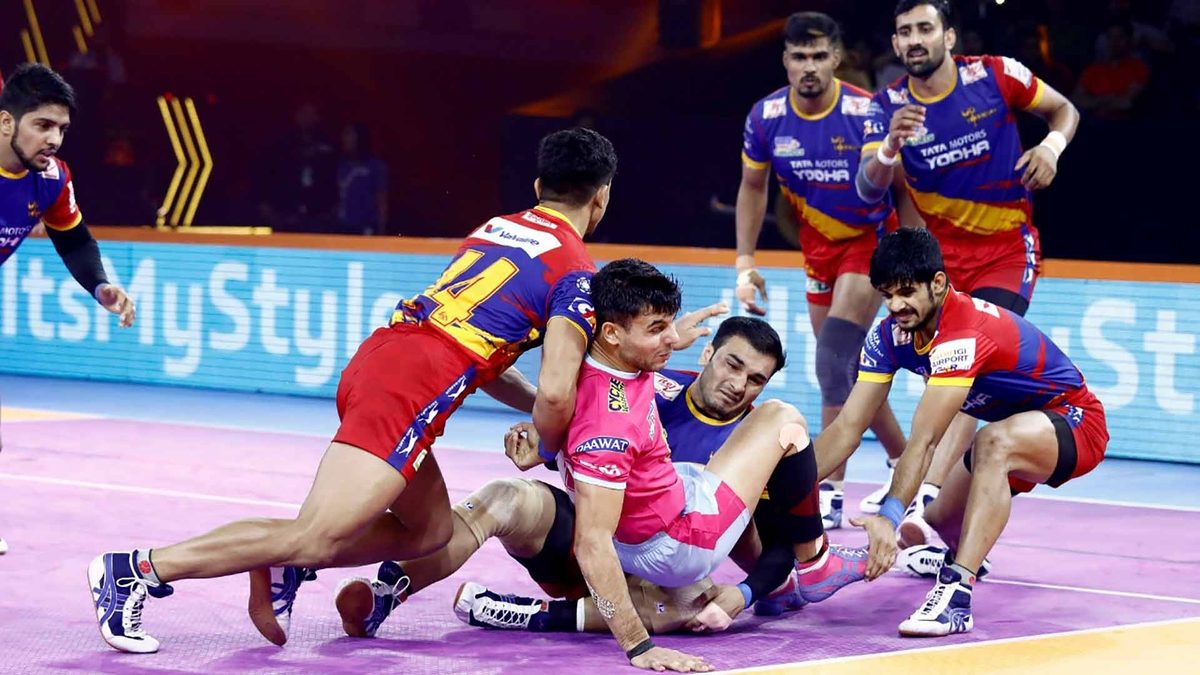 U.P. Yoddha carried forward their excellent form with yet another win, this time beating Jaipur Pink Panthers at the Shree Shiv Chhatrapati Sports Complex, Pune. Yoddha defeated the Panthers for the second time in the season, dominating both halves of the match, and registering their fifth-consecutive win.
Yoddha registered their first points with a successful raid by Rishank Devadiga. Though Panthers picked up the lead with Sushil Gulia's super-raid, Shrikant and Rishank quickly stepped up to reduce the margin. Nitesh and Sumit also got to work and soon, levelled the scores at five each.
Surinder came into action at this point, executing back-to-back fruitful raids and then tackling the last player standing for the Panthers', Sachin Narwal, to hand our opponents their first all-out, at the 10th minute of the half.
Sandeep Dhull, the leading defender of the season, was kept out of the mat for a long time throughout the match as both Shrikant and Rishank kept targeting Panthers' left corner, and were successful in getting a touch on him more often than not.
Though Deepak Niwas Hooda remained effective in sneaking points, our raiders were on top of their game too. In a game-changing moment, Shrikant got three Panthers players, including Dhull, out, and registered a super-raid. This aggravated Panthers' chances to recover, taking the lead to a whopping seven points with three minutes remaining in the half. With Rishank pulling off a 2-pointer in the last minute, Yoddha walked into the second half with a 20-13 scoreline in their favour.
Panthers took a cautious approach for the remaining half. In their first do-or-die attempt, Amit tackled Gulia and Rishank, and in Yoddha's following do-or-die raid, bagged a couple more points to keep the scorecard ticking.
Panthers were soon handed their second all-out, as our captain Nitesh held back their captain Hooda in his attempt to save his side. Yoddha maintained a convincing lead throughout the match, and reduced aggression in their approach in the later part of the second half. Raiders opted to search for bonus points while defenders were clever enough to not go for anything out of their zone.
Shrikant achieved a personal milestone, registering 350 ProKabaddi points, while Sumit completed 50 tackle points this season. Despite pulling off a couple of super-tackles within the final three minutes of the match, Panthers failed to save themselves from yet another defeat against Yoddha. With a 38-32 scoreline at the hooter, Yoddha snatched their fifth-consecutive triumph to prove their strong presence in a race to the playoffs.
Shrikant Jadhav was the most successful Yoddha raider with nine points while Rishank, too, was impressive with eight raid points from the match. Nitesh was the best of the defenders with three points.