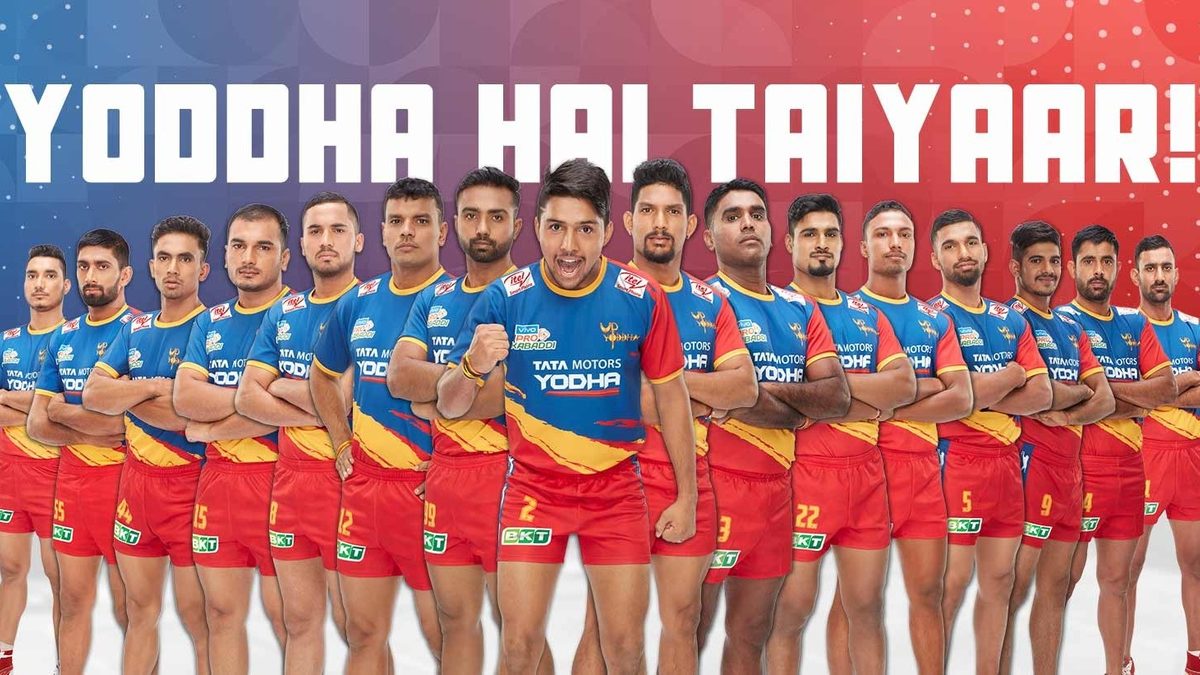 The ProKabaddi team from Uttar Pradesh, U.P. Yoddha will play its third season starting July 20. U.P. Yoddha were a part of the ProKabaddi play-offs two seasons in a row and are aiming to go even further this season.

#SaansRokSeenaThok - The campaign realises the importance of every breath in this amazing game called Kabaddi. One breath stands between winning and losing. One breath can transform a normal player into a Yoddha, which the franchise firmly believes.

The team decided to retain its core, keeping ten players in the squad and signed nine new players for the upcoming ProKabaddi season. Head coach Jasvir Singh & Assistant coach Arjun Singh will be overlooking the squad for the 2nd time this season. An abundance of young talent in the squad along with some experienced Kabaddi veterans, U.P. Yoddha is surely a team to watch out for this season. Monu Goyat, who has played under Jasvir Singh for Services in the past, was acquired this ProKabaddi auction for a whopping 93 lakhs making him the most expensive U.P. Yoddha player this season. An accomplished raider with more than 400 ProKabaddi points under his belt, Monu Goyat will be looking to add a lot more to his tally this season. Shrikant Jadhav, reacquired through FBM, had a very successful national run with Indian Railways, winning multiple trophies with the team and will surely bring in a lot of quality and morale into the squad. Veteran raider Rishank Devadiga was bought back through FBM will be a part of the Yoddha squad for the 3rd time in a row. This trio, along with the likes of Surender Singh, Azad Singh, Surender Gill and more, bolsters the raiding unit of U.P. Yoddha.
A problem for all raiders in the corner of the mat, centurion Nitesh Kumar, made raiding a difficult task with 100 tackle points in ProKabaddi Season 6. He had the most tackle points in all defenders last season, it was the first time in the history of ProKabaddi that a defender reached 100 tackle points. U.P Yoddha had a very strong defence unit with 265 tackle points in ProKabaddi Season 6. Experienced Kabaddi defenders like Sachin Kumar, Amit Narwal & Narender make the U.P Yoddha defence even stronger.
Starting from the bottom and rising to number three last season, U.P. Yoddha showed immense resilience and character with 5 wins and a draw in their last six matches of the league phase. Beating three-time ProKabaddi champions Patna Pirates with a margin of 16 points, U.P Yoddha eventually qualified for the playoffs over the Pirates. They went on to beat ProKabaddi giants U Mumba twice, knocking them out in the playoffs.
The 7th edition of the ProKabaddi starts on the 20th of July and will run for a period of 3 months. 137 matches will be played throughout the course of the league. U.P Yoddha will play their inaugural match of ProKabaddi 2019 on the 24th of July against the Bengal Warriors. U.P Yoddha will be hosting their home leg from the 5th October to the 11th October - facing 4 teams in a week's span.

For exclusive player interviews, behind the scenes, training content of U.P. Yoddha, follow the social media handles. Facebook: @yoddhahum Twitter: @UpYoddha Instagram: @officialupyoddha. To watch U.P. Yoddha in action this season, tune in to Star Sports & Hotstar.