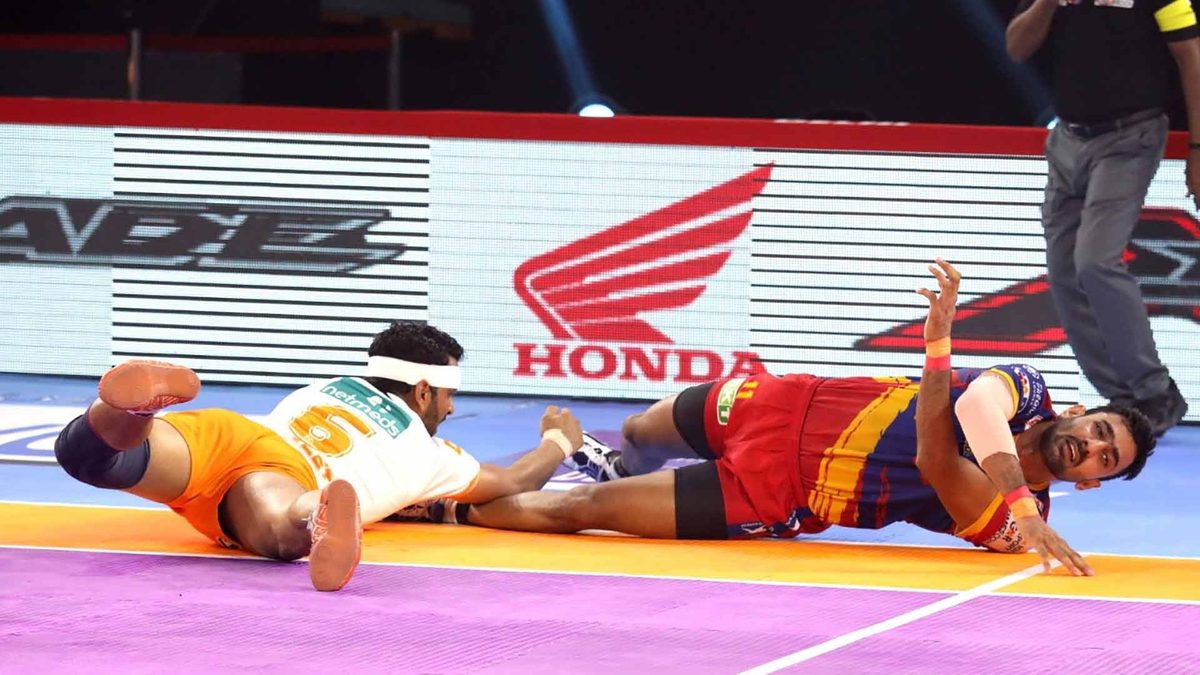 Shrikant Jadhav and Sumit Sangwan starred tonight as U.P. Yoddha registered a convincing win over Puneri Paltan. At the Thyagaraj Sports Complex, Delhi on Monday, Yoddha came out to play with two of their most experienced players Rishank and Monu being unavailable for the match. Shrikant took charge of the raiding contingent while Sumit led the defence, enabling us to a 5-point win.
Shrikant's raid got the game underway but it was Surender Gill who registered the first point of the match with a running hand-touch to opponent skipper Surjeet Singh. Shrikant's next raid got Girish Ernak out of the mat. Both Shrikant and Surender kept on striking in most of their raids, making full use of their pace to escape the grips of the Paltan defence.
We maintained the lead since our first points and maintained that throughout the half. With 12 minutes left in the half to finish, our raiders left only two of Paltan's men on the mat, and in the eighth minute, Shrikant's 2-point raid helped us inflict an all-out on them.
It was not until the sixth minute that our defenders got a chance to show their prowess. Sumit's double thigh hold held Manjeet back, as Yoddha registered their first tackle point. Ashu got into the action as well with one of his impactful dashes and Yoddha started to eliminate Puneri players yet again.
Shrikant gathered eight points in the first half itself, while Surender and Ashu also remained effective. Yoddha walked into the next half leading 16-9.
Yoddha started the next half positively, with Shrikant earning a touchpoint against Surjeet. Nitesh, after assisting in multiple tackles, registered his first point, holding back Pankaj Mohite with his strong double thigh hold.
Though Puneri looked better in the second half, our defenders upped their game. Sumit gathered three points, showing off his varied skills in blocks, dashes and ankle-holds.
It was a day of milestones for Shrikant, who registered his 50 raid points as well as his first Super-10 this season. With both the raiders and defenders putting up their A-game, we yet again got rid of five of the seven Puneri players. Shrikant, with a 2-point raid, cleared them up yet again, inflicting the second all-out of the night with 10 minutes to go in the half.
Though Manjeet kept earning points for Paltan, Yoddha made sure they never took the lead. However, with three minutes left in the match, Paltan made a brilliant comeback, eventually getting us all-out. But coming back on the mat, Shrikant struck back with a powerful 2-pointer. Sumit got rid of Pune's star raider Manjeet, completing his high-5. With two more successful raids towards the end, Shrikant kept Puneri Paltan's hopes of winning the match at bay, leading Yoddha to a 35-30 win.
Shrikant, finishing with 15 raid points, was the best raider of the match while Sumit's high-5 performance made him the defender of the match.