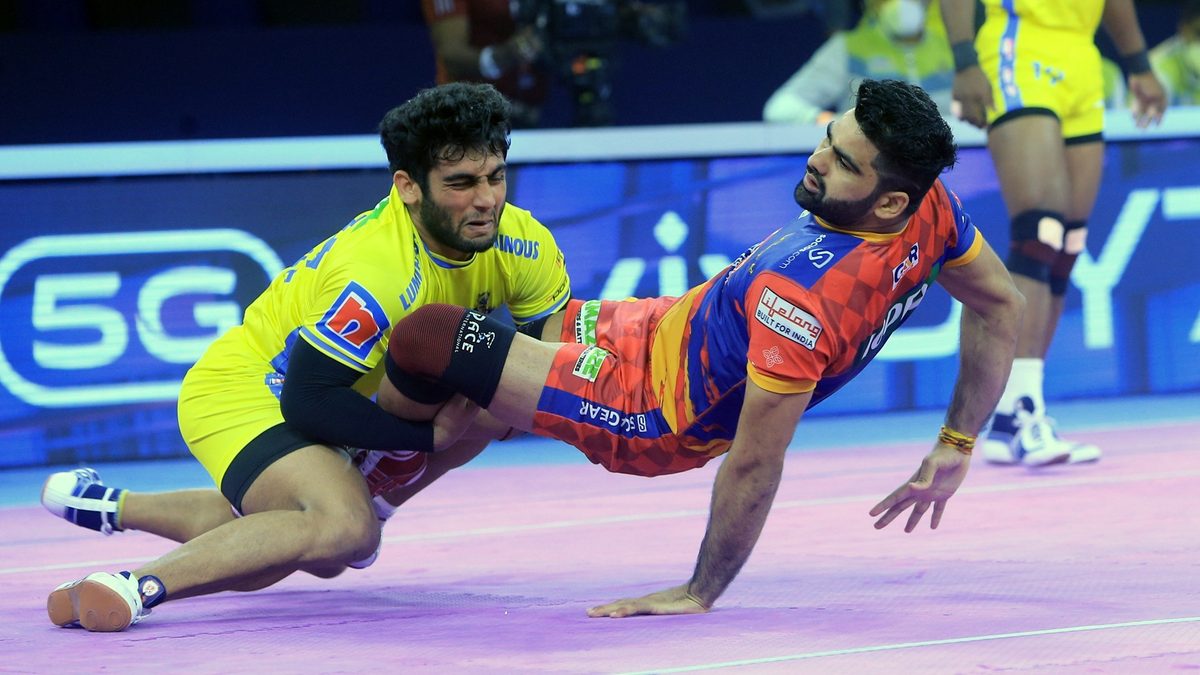 UP Yoddha fought hard to win a see-sawing encounter against Tamil Thalaivas 41-39 in their Pro Kabaddi Season 8 match in Bengaluru on Wednesday.
Surender Gill scored 13 raid points and Pardeep Narwal scored 10 raid points to push UP Yoddha towards the victory line. Sumit picked up his third high 5 of PKL 8, leading in the defence department.
Captain Manjeet led from the front for the Tamil Thalaivas, picking 11 raid points. Himanshu and Ajinkya Pawar picked eight and seven raid points, respectively.
Tamil Thalaivas took a slender lead of 5-4 in the first five minutes of the game with Ajinkya Pawar and Surender Gill picking three raid points apiece for their respective teams.
A three-point super raid from Pardeep, anchored by his famous dubki, placed UP Yoddha at par with Thalaivas at eight-all.
It was followed by an interesting raid from Shrikant, where he stepped out of the lobby before managing to get a touch on any Tamil Thalaivas player. However, three defenders followed him outside, earning UP Yoddha three points, while the Thalaivas had to settle for one. The score read 11-9 in Yoddha's favour.
Down to two men, the Thalaivas effected a super tackle by wrestling Surender Gill down to go up 12-11. However, they remained under three men for a while, before the inevitable all-out came. UP Yoddha once more led 17-15.
In the next five minutes, Himanshu and Manjeet gave the Thalaivas a 22-20 lead at half-time, leaving just three men on UP Yoddha's side.
UP Yoddha began the second half with Sumit leading a super tackle against Manjeet to equalise the scorecard.
Consecutive successful raids from Pardeep and good tackles from Sumit helped UP Yoddha turn the tables and inflict yet another all-out on Tamil Thalaivas, taking a 30-26 lead. Pardeep also registered his fifth super 10 of PKL 8.
With 10 minutes left on the clock, UP Yoddha held a lead of 32-30 as Manjeet, too, picked up a super 10 while Surender Gill moved to eight raid points.
Gill, too, brought up his super 10 soon, giving UP Yoddha a 35-31 lead. However, Tamil Thalaivas closed that gap in three minutes, once again led by consecutive successful raids from Himanshu and by tackling Mohammad Taghi and Pardeep Narwal.
Points increased at a breakneck speed thereafter, with the scoreboard poised in UP Yoddha's favour at 38-36 with under two minutes to go.
UP Yoddha maintained the two-point lead with Surender Gill allowing himself to be tackled while picking up a bonus in his last raid, winning the match 41-39.
With this victory, UP Yoddha now have 52 points in 18 games and move to the fifth position in the PKL points table.
UP Yoddha will play against Gujarat Giants next Friday.