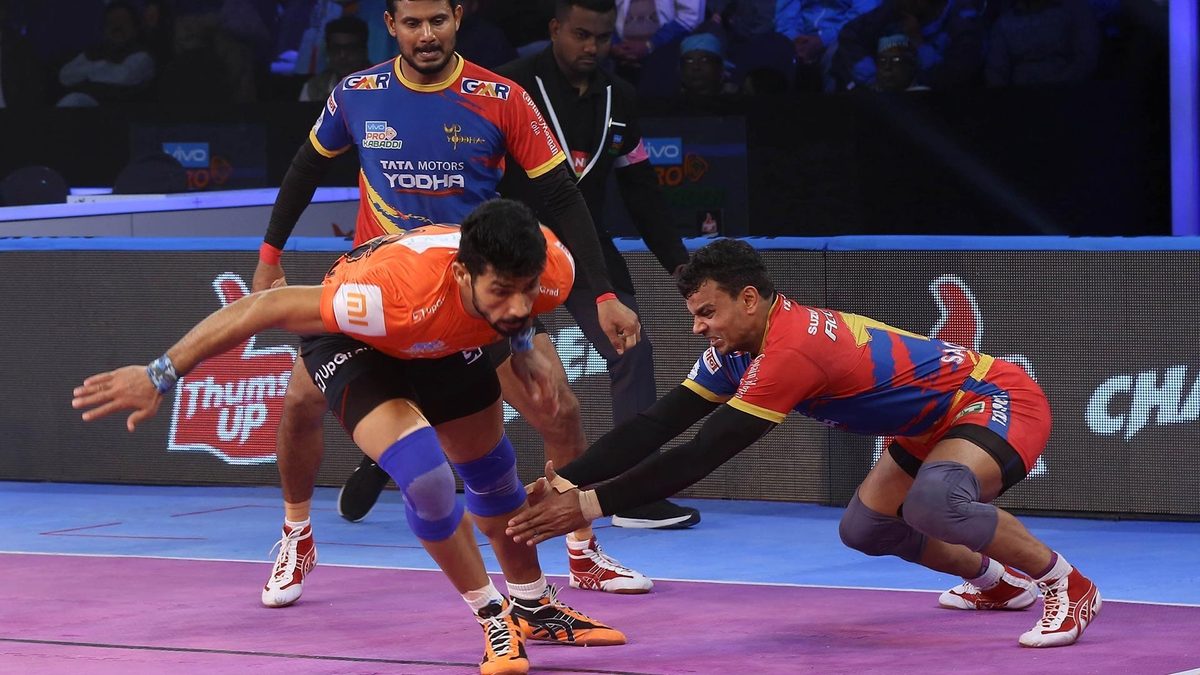 UP Yoddha registered a power-packed victory over a strong U Mumba to keep their playoff hopes alive in ProKabaddi 2018. Playing at the Netaji Indoor Stadium on Saturday, UP Yoddha led in both halves and tamed the Mumbai boys to finish with a crucial win in a nail-biter. With this, we climbed to the fourth position in the points table.
Though U Mumba started off on a high, Shrikant's successful raid and a surprisingly strong hold by Sachin Kumar to Abolfazl Maghsodlou put us in contention. In U Mumba's Do-or-Die, Siddharth Desai was tackled with an ankle-hold by Nitesh. With that, our master defender completed 75 tackle points in the season. Though Mumba pulled off two Super Tackles and kept the lead, they were reduced to just three soon, and eventually our Yoddha inflicted an All-Out – for the first time in ProKabaddi 2018. Though Rishank and Prashanth kept striking, U Mumba came back stronger, with their raiders getting the better of our defenders with subtle touches and we were soon left with Prashanth on the mat only. With a successful 2-point raid by the Prashanth, we finished the first with an 18-15 lead.
Back from the break, Nitesh and Prashanth pulled off a Super-Tackle on Abolfazl to not only maintain the lead but also revive Shrikanth. However, in an attempt to tackle in Mumba's next raid, both Shrikant and Nitesh were out and we were soon All-Out. Back on the mat in full strength, our defenders got into work.
Rishank stepped up as a captain today, pulling off successful raids and bringing touch points to the side to keep the Yoddha afloat. The second half remained pretty close until Rishank again pulled off a 2-point raid, both on touches. It was followed by yet another ankle-hold from Sachin to get rid of Abolfazl. With the points, he completed his consecutive High 5. Though Mumba were reduced to three on the mat, they soon pulled off two successful tackles to stay in contention.
In a game-changing moment, Nitesh and Sachin pulled off a very close tackle amidst a dominating game-play by U Mumba to gain momentum. However, with a successful raid by Darshan Kadian, U Mumba drew level. But the game-changer was our Mr Dependable, Prashanth, whose 2-point raid at the last minute became the difference between U Mumba and victory. We earned ourselves a proud victory, with a 34-32 scoreline.
The TATA Ace Defender of the Match award went to Sachin Kumar for seven points from the match while Prashanth Kumar Rai bagged the Future Pay Moment of the Match award for his game-changing final raid. Apart from them, Rishank shone with his performance in the match while Nitesh was effective as usual.