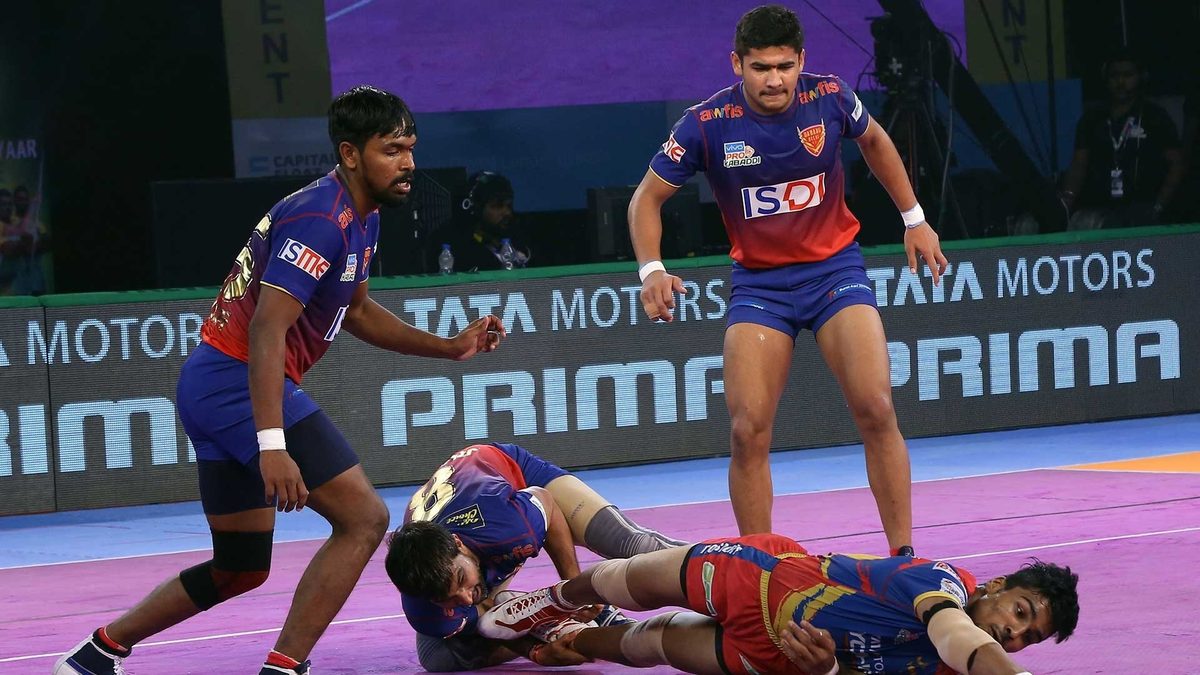 With top-notch performance in the second match of Inter-Zone Challenge Week, UP Yoddha posted their 2nd consecutive victory, defeating Dabang Delhi K.C. at the Patliputra Indoor Stadium, Patna. In the absence of Rishank Devadiga, who suffered an injury in the previous match, Prashanth Kumar Rai led the side to a dominant first half. Though our opponents bounced back to make it a close encounter, our talented Yoddha made sure we finished on the winning note and claim the top spot of points table in Zone B.
Prashanth opened Yoddha's account with double points. However, we could not get off to the start we wanted, as brilliant raids from Dabang Delhi K.C. earned the lead. Our defenders, led by Narender, helped the side earn points after an initial glitch, while Shrikant's consecutive successful raids put us in a neck-and-neck fight. Shrikant displayed some intelligent moves to keep the points coming and backed up by Prashanth, eventually, we got them all-out.
Our talented raiding duo – Shrikant and Prashanth – got us leading the chart. Shrikant's Super Raid weakened Delhi's strength and we got them All-Out yet again, with a minute to half-time. By the end of the first half, we were on the driver's seat with a scoreline of 25-17.
Back from the break, Delhi got both our raiders Prashanth and Shrikant in powerful tackles. Reduced to a team of three on the mat, our defenders effected a Super-Tackle. Further in the game, another Super-Tackle followed with just Nitesh Kumar and Azad Singh on the mat.
Delhi bounced back soon to nullify our lead and the game stood 32 all with less than 7 minutes to go. Prashanth completed his Super 10 in the match. Raiders of both teams kept scoring points cautiously, and the game remained close. With over 2 minutes remaining, while Prashanth was denied any point in his raid, Delhi earned a touch point to go 36-35 up in the scoreboard.
In his Do-or-Die raid, Shrikant turned the table, earning 2 points and putting us back in the lead. With a successful tackle led by Narender in the end, UP Yoddha registered a final scoreline of 38-36. With this, they now have three wins, a tie and 21 points.
VIVO Perfect Raider of the Match – Shrikant Jadhav (12 raid points)
TATA Ace Defender of the Match – Nitesh Kumar (4 tackle points)
Perfect Moment of the Match – Narender