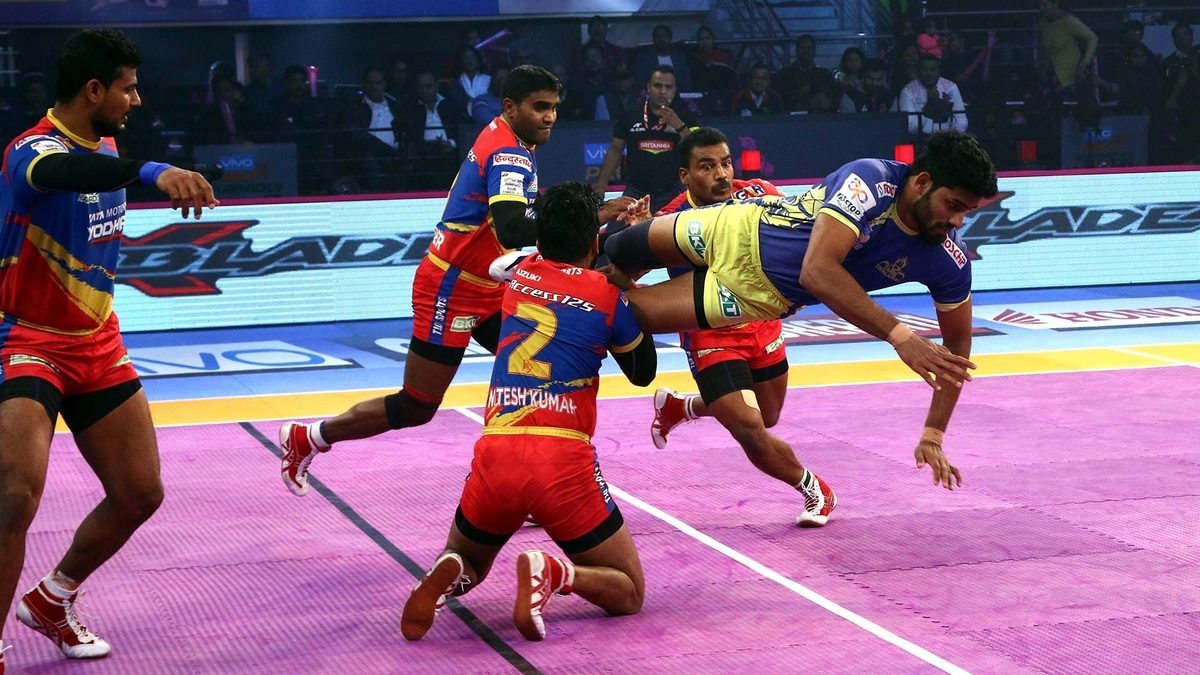 A close encounter ended in a tie, as UP Yoddha faced Tamil Thalaivas for the third time in ProKabaddi 2018. Playing at the Tau Devi Lal Sports Stadium, Panchkula, Haryana, on Saturday, our defenders and raiders put up neck-and-neck fight with the Thalaivas, but the powers proved to be at par, bearing no result out of the face off.
Ajay Thakur got rid of Sagar Krishna in the first raid of the match, but we immediately leveled with them, as Prashant Rai got a touch point getting Manjit Chhillar out. Though the Thalaivas maintained a two-point lead for a few minutes, Prashanth's successful raid followed by a block tackle from Nitesh helped us level scores. The Thalaivas took the lead again, but a tactical move to send Sachin in multiple raids worked for us, giving us the lead. However, right before the end of the first half, Sachin got tackled for the first time in the match, handing the opponents two points for their Super-Raid. The scores at the break read 13-10 in favour of the Thalaivas.
Starting from behind, the Yoddha brought a change in plan. We pushed more for bonus points, where our specialist Prashanth put his skills to good use and made defense our primary weapon. Nitesh kept executing some top-notch work with brilliantly-timed ankle holds and double-thigh holds, while Jeeva and the rest of the defense supporting him well.
Yoddha made some silly errors, which handed the Thalaivas technical points. However, Prashant made sure he kept the scorecard ticking with bonus points in every raid. He soon completed his Super 10, while Nitesh, with his amazing work, completed his High 5 and leveled the scores with three minutes to go.
Both teams played very carefully towards the end, taking very little risk. But with two bonus points by Prashanth, helped us level the scores and the game ended undecided, with 25 points to both sides.
Prashanth Kumar Rai gathered 12 points from 17 raids in the match and was named the VIVO Perfect Raider of the Match. Nitesh, the flawless defender of our Yoddha clan, bagged the TATA ACE Defender of the Match award yet again.