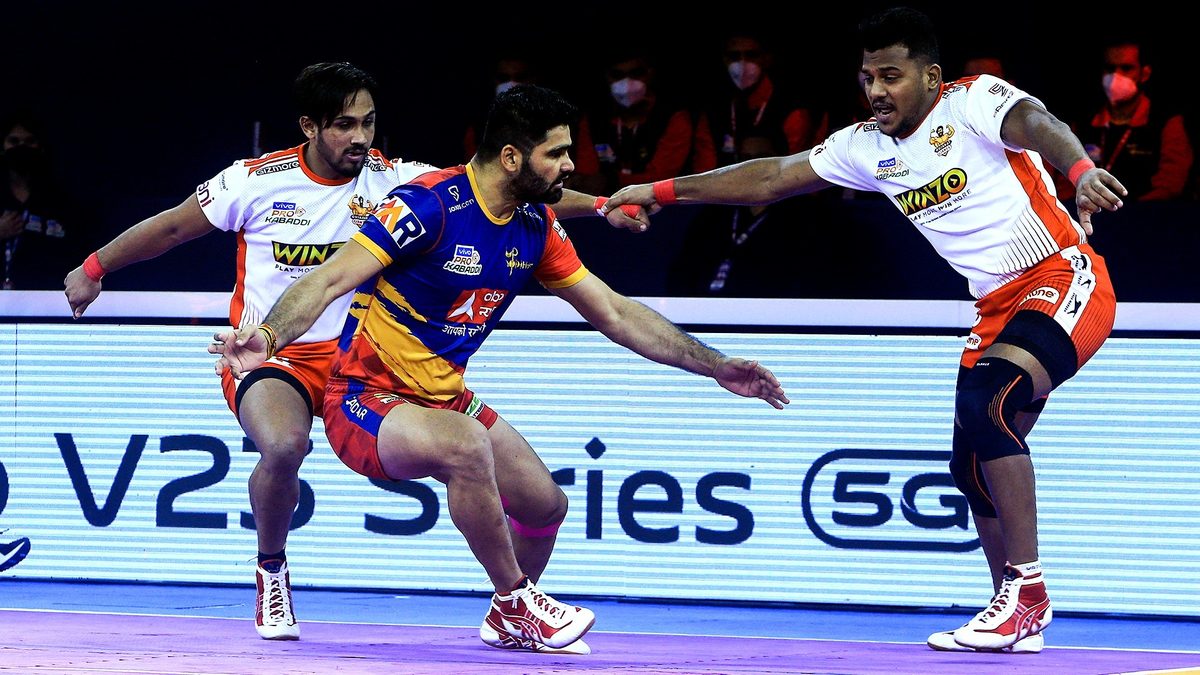 Pardeep Narwal chose to end the Pro Kabaddi match against Gujarat Giants with an empty raid to settle for a 32-all draw on Wednesday at the Sheraton Grand, Whitefield in Bengaluru.
On the insistence of coach Jasveer Singh just before the final raid, Pardeep decided to ensure a tie over risking a loss for UP Yoddha.
Pardeep Narwal ended as the top-scorer for UP Yoddha with 11 raid points, getting his career's 61st and Season 8's second super 10. An all-round effort from Surender Gill, who scored four raid points and affected a super tackle, also bolstered UP's performance.
For the Gujarat Giants, Rakesh Narwal top-scored with 13 raid points while Girish Maruti Ernak managed tackle points.
There was drama early on in the game with Rakesh's super raid sending Sumit, Gurdeep and Nitesh back, taking Gujarat Giants to 7-3.
Lone man Surender attempted a revival with a raid followed by a super tackle with Sumit's aid, levelling the score at 7 points. However, the Giants quickly inflicted an all-out on UP Yoddha, moving to 12-7, barely 10 minutes into the match.
Gujarat Giants raced to a 20-9 lead soon after. The Yoddha then fought back with five unanswered points to close the deficit to six points at the end of the first half.
UP Yoddha rode on the momentum and were soon at the Giants' heels at 20-22, successfully enforcing an all-out.
Two more points from Pardeep levelled the scores, and the teams moved toe-to-toe thereon. A two-point raid from Pardeep got him to his super 10, taking UP's total to 28.
With the clock ticking and the defences of both teams tight, the teams moved in one-point increments, until Pardeep took it in his hands to ensure the match ended in a draw.
The ace PKL raider now has 1,194 raid points and is set to become the first kabaddi player with 1,200 raid points in the league.
With this tie, UP Yoddha have accumulated 10 points but remain in the seventh position in the PKL standings. The Gujarat Giants, with 12 points, are in second place in the PKL points table.
UP Yoddha will next play U Mumba on Saturday.