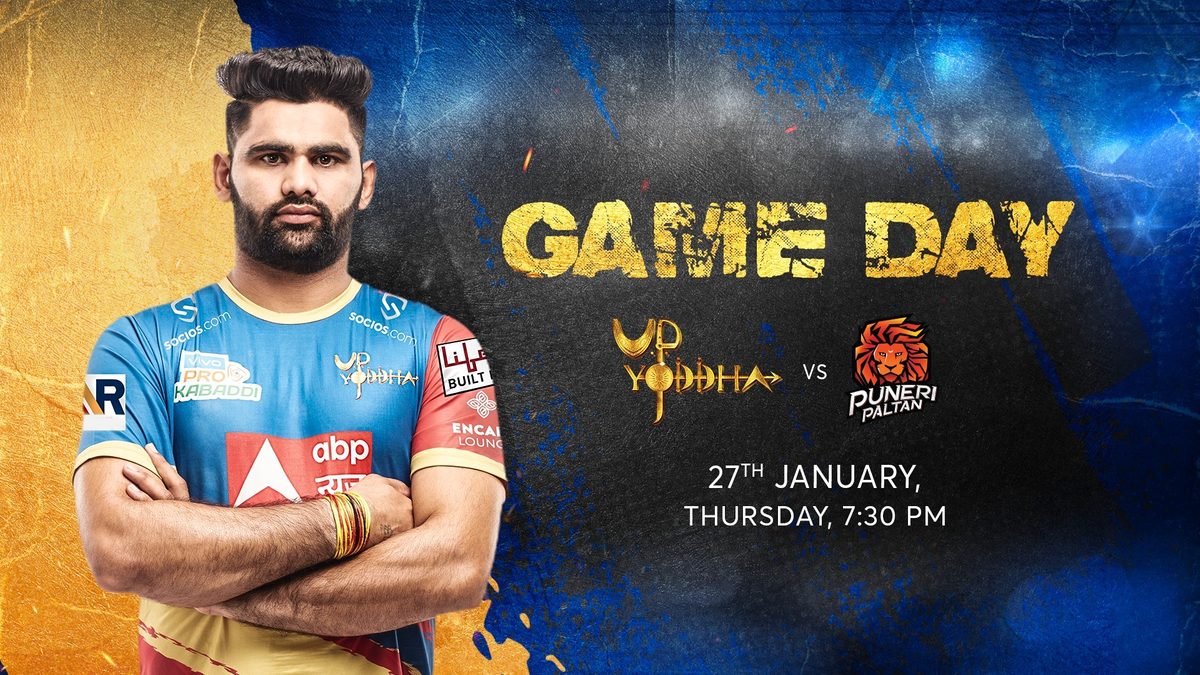 UP Yoddha will take heart from their victory against Puneri Paltan earlier in Pro Kabaddi Season 8 when the two teams clash on Thursday at the Sheraton Grand, Whitefield in Bengaluru.
Last week, UP Yoddha won 50-40 against Puneri Paltan with Super 10s from Surender Gill (21 raid points) and Pardeep Narwal (10 raid points). Nitesh Kumar scored four tackle points.
The high-scoring encounter also saw super 10s from Aslam Inamdar and Mohit Goyat for the Paltans.
That match was a part of a five-match unbeaten streak for the Yoddha, only broken by a one-point (35-36) loss to the Haryana Steelers last time out. Shrikant Jadhav (Super 10) and substitute Mohammad Taghi (four-point raid) starred in the match against the Steelers but it wasn't enough.
Coached by Kabaddi legend Anup Kumar, Puneri Paltan come into the match with a resounding 42-25 victory over Dabang Delhi K.C. Aslam Inamdar and Mohit Goyat led the charge in the raiding department while Sombir spruced up the defence with a six-point High 5.
In the PKL standings, UP Yoddha are seventh with 39 points from 13 matches and Puneri Paltan are 10th with 32 points in 13 games.
UP Yoddha vs Puneri Paltan: Key players
Aslam Inamdar, in fact, has been Puneri Paltan's lead raider this season with 88 raid points from 13 matches. Mohit Goyat is close behind with 67 from 11.
Abinesh Nadarajan, with two high 5s this season, has been Pune's best defender in PKL 8 with 27 tackle points from 12 games. Sombir and Vishal Bhardwaj have been in the fray as well.
For UP Yoddha, Surender Gill has been the star of the season with 103 raid points from 12 matches, upstaging even the mercurial Pardeep Narwal, who has 94 raid points from 13 games.
Surender Gill, however, didn't feature in the last match against Haryana Steelers due to an injury.
With 33 tackle points from 13 matches, UP Yoddha captain Nitesh Kumar is the top defender for his team. Along with Sumit (32 tackle points from 13 games), the two form an incisive defensive duo. Ashu Singh isn't far behind either.
UP Yoddha vs Puneri Paltan: Team stats
UP Yoddha's scoring rate has been second only to Bengaluru Bulls this season, averaging 35.85 points per match. Puneri Paltan is eighth with 33.38.
Even their raids have been effective. UP Yoddha score 21.38 raid points per match, only behind the Bulls. The Paltan is last on the list at 18.38. UP Yoddha has the second-highest super raids this season (10) while Paltan are second from last (4).
Even in the defence, UP Yoddha holds the edge, scoring 10.69 tackle points per match, behind only Patna Pirates. They lead the super tackle list in Pro Kabaddi Season 8 with 18, ahead of the Bulls' 14.
Puneri Paltan, however, have been fruitful in do-or-die raids, their tally making them the second-most successful team this season. They have also affected the second-most all outs this season.
UP Yoddha vs Puneri Paltan: Head-to-head
UP Yoddha and Puneri Paltan have gone head-to-head in six matches in the Pro Kabaddi League so far. UP Yoddha have won four of those matches and Puneri Paltan have won two.
In fact, UP Yoddha have won the last three matches against Puneri Paltan, including two from Season 7.
UP Yoddha vs Puneri Paltan: Recent form
Match on the left is the latest
UP Yoddha: L, W, W, W, T
Puneri Paltan: W, W, L, L, W