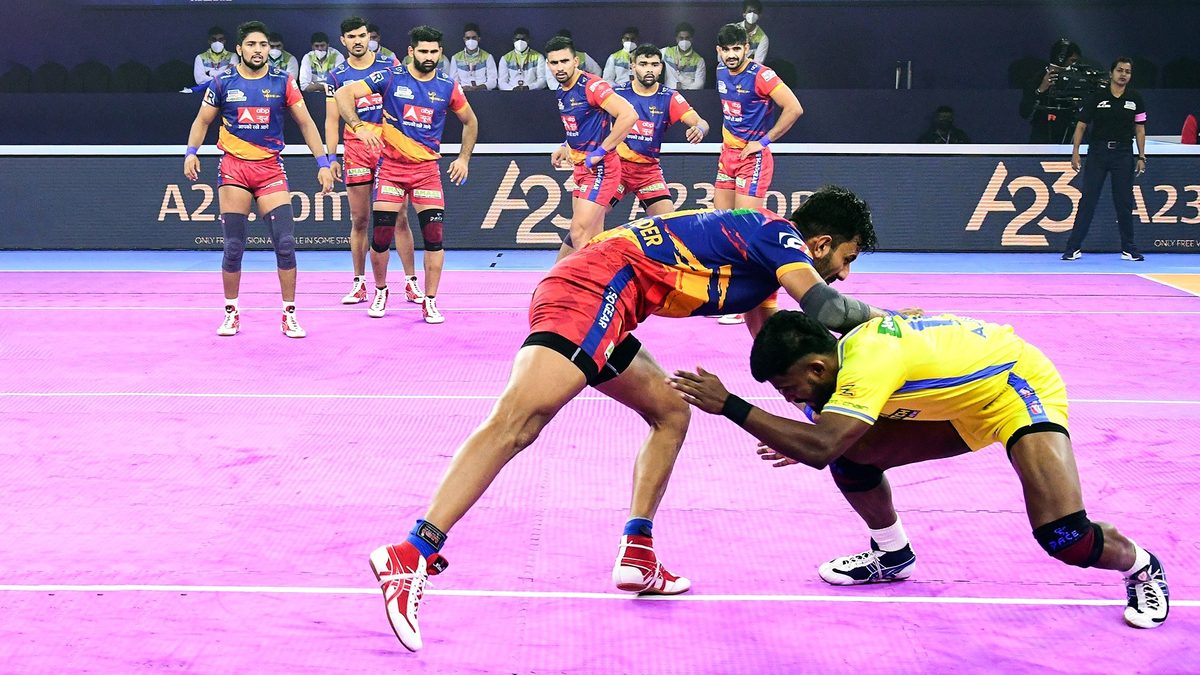 A spirited Surender Gill's super 10 did not help UP Yoddha as they extended their winless streak in Pro Kabaddi Season 8 to four matches after they lost 33-39 to Tamil Thalaivas at the Sheraton Grand, Whitefield in Bengaluru on Tuesday.
Surender got 13 raid points and a tackle point to be UP Yoddha's biggest contributor to the scoreboard. Pardeep Narwal ended the game with six raid points.
Both teams moved cautiously in the initial stages of the game, with teams levelling at three points in the opening five minutes.
Tamil Thalaivas then accelerated to an 8-4 lead, with Pardeep Narwal sent to the bench twice by the seventh minute.
In less than 12 minutes, all seven UP Yoddha players were sent back, with the Thalaivas leading 12-6.
By the end of the first half, Pardeep had picked three raid points and had become the first PKL raider to score 1,200 raid points, but it was Tamil Thalaivas who rejoiced. They had a 21-10 lead, with just Ashu and Shubham standing on UP Yoddha's side of the mat.
The second half saw a spirited effort from the duo, with back-to-back super tackles, that resulted in Pardeep Narwal's revival while Surender Gill picked two more points in his raid.
Within five minutes, UP Yoddha picked up eight points with the Thalaivas managing just one. UP Yoddha soon inflicted an all-out and closed the gap at 22-24.
Surender picked up a super 10 with a bonus point, but the Tamil Thalaivas came down hard on UP Yoddha, once again affecting an all-out, to increase their lead to 26-34.
With less than a minute to go, Pardeep managed a three-point super raid to cut UP Yoddha's deficit to six points.
A mistake from Shubham cost UP Yoddha a point, and with Thalaivas raider Ajinkya Pawar getting a bonus, the deficit crossed the seven-point mark at 30-38.
A swift raid by Surender Gill under pressure brought UP Yoddha two points. Shortly after, a successful tackle of Ajinkya Pawar brought UP Yoddha to 33 points, but having earned a bonus, the Thalaivas ended with 39 points.
UP Yoddha now have 14 points from six games, with just one win so far. They will face Dabang Delhi K.C on Saturday next.