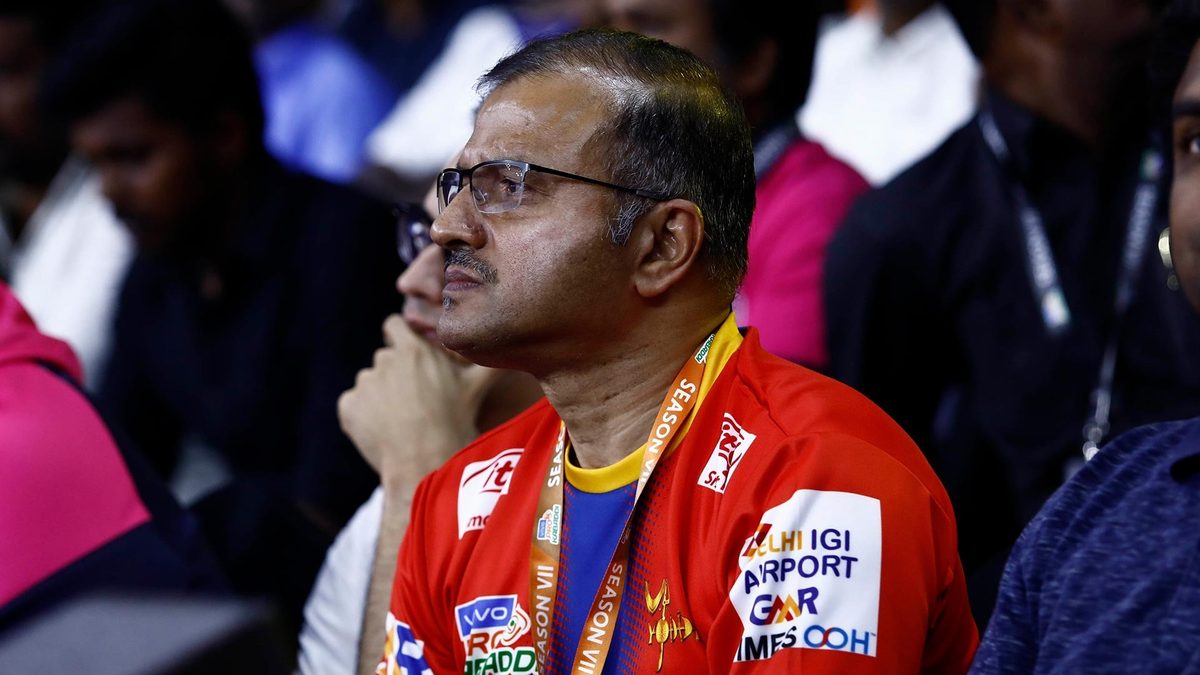 U.P. Yoddha did not have the start they wanted but a steep comeback has now established them as one of the strong contenders for the ProKabaddi title. Despite the presence of experienced players, owing to their injuries, youngers players have been the driving force for the team's upward journey and it surprises our CEO Vinod Bisht very little.
"Unfortunately for us, our star raiders were hit by injuries early in the season. The youngsters found it tough initially but they have taken up the responsibility and our performance has looked good with them doing well in recent matches," Vinod told Sportskeeda in a recent interview.
Injuries to our marquee players Rishank Devadiga and Monu Goyat hindered our progress in the initial stage, but the management was quick to look for a fruitful solution.
"We did not start off well and struggled to get our combination right but we changed the strategies and introduced younger players and urged them to stick to the basics. They settled well, especially on the defensive front and that has brought about a string of wins.
UP Yoddha's overall success has gone in parallel with consistent performances from the youngsters. Right from the first season, our focus was on picking up young players from the NYP program and handing them opportunities. If you see, last season, Nitesh Kumar became the first ever defender to score 100 tackle points and in this edition, we named him as the captain of the side ahead of other experienced names."
Scouting is a task tougher done than said. Our management devised a plan to pick the ones who have left impression with their performance at a junior level, and what better place to execute it than our very own Uttar Pradesh? U.P. Yoddha partnered with Hindustan in an initiative to spread kabaddi furthermore, with the Hindustan Kabaddi League – a zonal competition which encourages the youngsters to continue with kabaddi.
"Any professional league needs to have a broader base in order to be stable. As a franchise, we realised that we needed a wider net to dig out new talented players from the state of UP and we joined hands with the Kabaddi League. This was done in order to reach out to a broader audience, give a lot more youngsters a platform to excel, hone their skills and be ready for top-flight kabaddi."
But a well-balanced team is the recipe to success, and Vinod knows that well.
"While we have faith in our youngsters to form the fulcrum of the team, for a team to do well, quality raiders are very important. We picked up experienced raiders who are well known in the league, who were certain to add depth to the side and bring their experience into the team."
Like any other league, ProKabaddi has also evolved into an even more competitive one and this time, the bars are set higher than ever.
"The ongoing season has rightly been monikered as the toughest season ever, with the change in the format that has given each team a good chance to qualify for the knockouts. The schedule is such that each team plays the same number of matches at a given point in time and this has brought about a good level of competition."
The big challenge of excelling in the home leg lies ahead of U.P. Yoddha. While the expectations are bigger, U.P. Yoddha have their target set at the qualifiers.
"As a management, we are well aware that the home leg is a high pressure point for the home side and most teams do not do too well at home because of the limited time frame to make an impact. Certainly, the main target is to be assured of a spot in the top 6 before we commence our home leg."